Marshmello Drops Merch Exclusively to Merchbar and YouTube
Merchbar launches their official merchandise partnership with YouTube today, fulfilling its mission of bringing artists and fans closer together. Merchbar will power merch listings on YouTube as the platform continues to invest in its Merch Shelf. 
The collaboration will allow thousands of artists to surface their own official merch and vinyl listings to fans below video pages within an artist's YouTube Official Artist Channel. To celebrate the launch, brand phenomenon Marshmello has created a soccer jersey available exclusively to Merchbar and YouTube.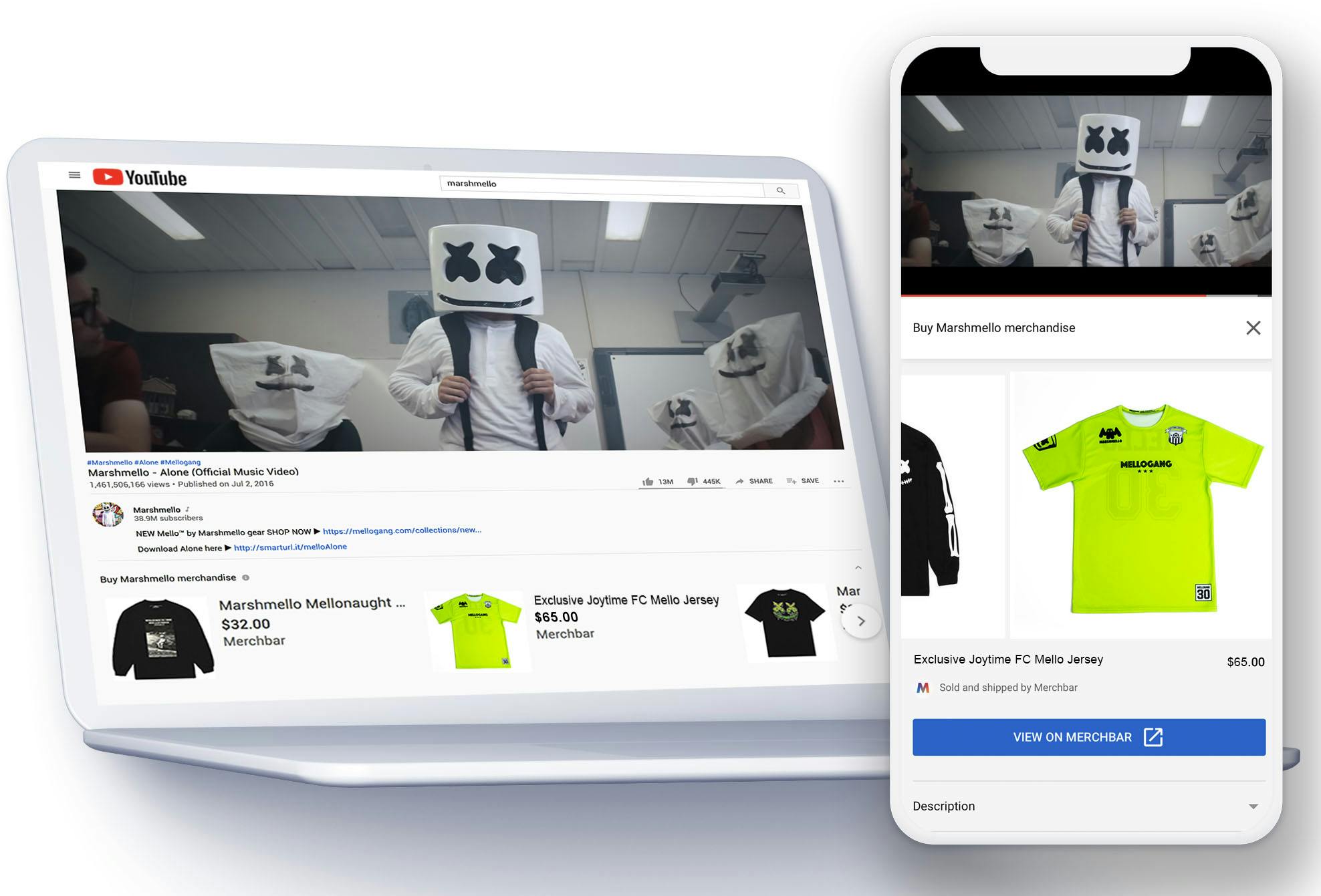 The partnership, built on top of Merchbar's proprietary merch distribution and retail technology, and YouTube's Merch Shelf system, closes a major gap for artists and their fans - seamless discovery to purchase merch.
Merchbar CEO Ed Aten from Merchbar said: 
"YouTube is the first platform to give everyone on earth the opportunity to explore the world's creativity and our universal language; music. We're honored to work with YouTube to bring people even closer to their favorite artists and provide new ways to express their love and identity."
Today's launch enables YouTube viewers in the US to see merchandise listings from nearly 3,000 artists following a successful pilot between the two companies.  Eligible artists who have an Official Artist Channel and a Merchbar store with US fulfillment enabled can sign up for the merch shelf in YouTube Studio. YouTube and Merchbar are working to expand the partnership to more artists and territories in the coming months, as well as provide additional support for non-music creators.
Co-Founder of Merchbar John Hecker said:
"We created Merchbar to empower artists to own their own destiny when it comes to their merch. Marshmello and his team have been experts in using everything available to them since the outset which makes him a perfect Merchbar partner."
(Nowhere is this more true than Marshmello's innovative use of YouTube to reach his fans, which continues to surprise and delight. From cooking with Tyler Florence to the music video for his hit song Stars (with nearly 150,000,000 views on YouTube). Today he brings that expertise to a new level by harnessing the power of this new partnership to bring his fans a limited edition soccer jersey. 
The partnership is expected to boost merchandise sales for artists and Merchbar as the holiday season approaches.